Are bad backlinks hurting your websites search engine rankings?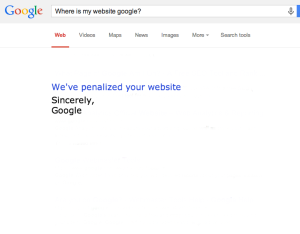 Our latest client, Dri-Way Carpet and Upholstery Care came to us after asking "why is my website not showing up on Google".
His targeted search terms are variations of "carpet cleaning Victoria".
He had no idea why. At first look, we knew why.
His main page is title "Carpet Cleaning Victoria" which should get you on page 5 at worst in most cities. But his website was no where to be found when we did our searches.
We knew right away that his site had been penalized by Google.
What was the reason?
After doing a backlink audit, we find many spammy low quality backlinks.
Are bad backlinks hurting your websites search engine rankings? Backlinks are the human growth hormone of SEO and will help or hurt your websites search rankings.
We define bad backlinks as those from very low quality website. How can you determine what a bad website looks like?
Watch the video below and learn how to:
how to find out what websites are linking to yours or what backlinks your website has
determine if a website is good or spammy
what to look for when prospecting for backlinks on other websites
Here are the links I have talked about in the video.
Download the SEOquake extension for Google Chrome.
Download the SEOquake extension for Mozilla Firefox.
Here is the link on how to setup and install Google Webmaster tools.
Here is the link of why you need to say no to link requests from other webmasters.
Google does not like duplicate content.
After doing a link audit of your website, have you had any spammy backlinks to your website?
If you have, you'll want to read our next blog post on what do to if your website has backlinks on spammy websites and if Google has penalized your website. So be sure to sign up for our email newsletter on the top right of this screen or in the popup box you'll see any second now to get that blog post sent straight to your inbox.