The HGH Of SEO And How To Improve Your Search Engine Rankings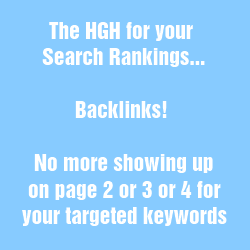 Search Engine Optimization can be down right intimidating.
I feel your pain. Three years ago I knew nothing of SEO.
That was until a friend suggested I talk to him for an hour on SEO. At the time I was working for a golf holiday company and I felt that we could attract website visitors through search terms like "Scotland Golf Holiday".
For a few reasons I wasn't able to help my employer out. But it was still beneficial to learn SEO.
And now I'm helping you learn SEO in three components.
Backlinks
Click on the first two links for previous posts where I show you how to do proper keyword research and then properly optimize your website.
Today's post will discuss how to get backlinks to your site.
How To Get High Quality Backlinks
Backlinks are simply links from other websites pointing towards yours. They help notify Google that your website exists. The more valuable backlinks you have, the better your Google PageRank. I explain why PageRank is important to your overall search engine rankings below.
Essentially backlinks are the HGH of SEO. In this case they improve your search rankings and not your bicep size!
Without all three components your rankings will not improve. As I said backlinks are the only way Google knows your website exists. You could nail the first two components to SEO but if you have no backlinks pointing to your website, your rankings won't improve.
Continue reading this post for a list of ways to acquire high quality backlinks.

Before I list those ideas, lets start of talking about Google Pagerank. Page rank is a way Google notifies us on how trustworthy a website is.
Sites like Facebook, ESPN.com and Twitter have a high page rank. Most business websites like yours don't have any Pagerank.
But as you build more high quality links to your site, your pagerank and trust with Google will increase.
Now onto getting more backlinks. With Google continuously cracking down on what type of links are valuable, here is a list of the best ways to get high quality backlinks.
Business Directories – Getting your business listed in directories with help with citations and most directories give a link back to your site.
Guest Blogging – finding relevant blogs and pitching a blog post idea
Social Media Profiles – Linking your personal and Business Google + pages to your website is important. Even if you don't plan on using Pinterest, Twitter or other social media sites, create a profile with a link back to your website.
Be remarkable, unique or even controversial – if you're remarkable or unique, people will talk about you online. The same with controversy, it generates attention and possibly plenty of conversation and links
Comment on relevant blogs
Participate on social networking sites like Facebook and Google+ where you can link to your latest blog posts
Participate in relevant forums
Monitor and participate in local forums like Reddit
Hold interviews with prominent people – they're bound to garner enough attention
Submit your business to relevant local and industry specific directories
Submit a press release to press release sites
Link out to others and maybe they'll notice and link back
Signup or add Webmaster Tools to your Google Account
Add One Of These Page Rank Checkers to Your Chrome Broswer
Add This Page Rank Checker to Your FireFox Browser
What Do You Think?
Was this video easy to understand and do you have a clear plan of action to start acquiring more backlinks? If you're struggling finding relevant blogs let me know and I'll help you out.
If you enjoyed this video and want to know more about SEO, subscribe to my updates. There are a few more thing I want to discuss on this blog that deal with SEO and I will be blogging about soon.