While You Were Working 001 – 5 Marketing Articles You Missed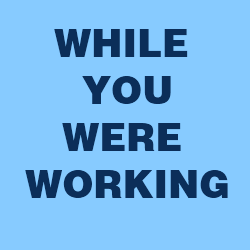 new series of blog posts. The concept is easy. It's going to be the Top 5 Weekly Marketing articles.

I'm calling it "While You Were Working". And they'll be published every Sunday afternoon in North America.

The weekend is almost over and for many, it's back to work tomorrow. But when you're winding down on a Sunday evening, take 15 minutes to read the articles I've posted for you.

My goal is to generate some ideas to better market your business. So hopefully the articles will give you inspiration and get the

I understand that you may not have time to keep up to date on the latest in the marketing world. Not to worry, I've got you covered!

I do my best to find the most relevant marketing articles so you don't have too. You man the fort and I'll supply the content.

Sound good? Great!

The Goods

Use this idea to inspire better usage of your Facebook pages images




Smart Car Turns Facebook Images Into a Flipbook

Focus On The Quality of Your Content Management

What It Takes For Your Brand's Videos to Get Noticed

Focus on Your Customers when using Social Networking Sites

5 Ways Brands Are Using Pinterest to Authentically Connect With People

What Do You Think?

Do you like this concept? If so, what type or articles are you looking for?