Is Yellow Pages 360 Online Worth It?
A question we often get asked is "Is Yellow Pages online worth it?"
I'll answer this question over the course of this blog post. Before I answer this question, be sure to read my review of YellowPages latest service offering called NetSync.
The answer is based off of the experiences auditing a few of our current client's websites who switched from Yellow Pages online to work with us.
My goal is to provide you honest feedback like I did with this Yelp advertising review so you can make an informed decision.
So let's get to it!
Death Of The Phone Book
We all know the phone book is dead.
But that isn't stopping Yellow Pages.
Nope. They're working their way into the online marketing world.
They offer Google Adwords advertising, SEO and priority rankings in their online directories. I'll break down each of their services and give you a review of the work they do.
Before I do that, I want to mention a couple of things we see wrong with Yellow Pages online services.
They Have Contracts With No Guarantees
A few of our current clients have switched over from Yellow Pages online services. But only after their contracts had ended.
Offering contracts is fine. But not offering a guarantee on services along with a contract is a no-win situation for the client. We believe contracts are a thing of the past. Especially ones with no guarantees.
They Use Scare Tactics
Yellow Pages aren't scammers but they will use scare tactics.
A new client who was in talks with Yellow Pages was warned/threatened that their website would not be found in the search results.
When you don't use Yellow Pages online service, your listing in their directory for your product or services wont rank as high. That's because they reserve the top spots in their directory listings for their paying clients.
Here's an example: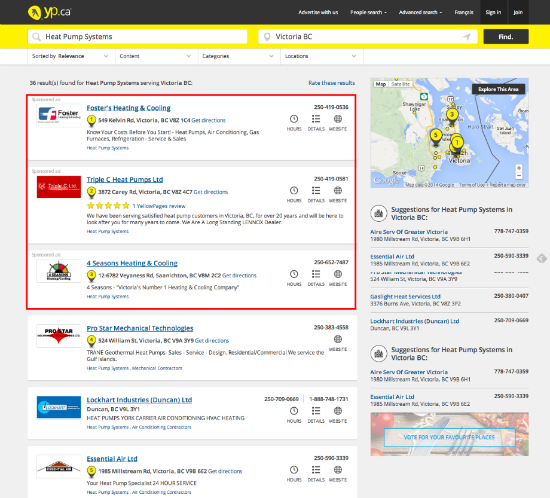 The listings in the red box are sponsored. Just like in the Google search results, ads are at the top, which is fine. If you choose not to use Yellow Pages online services, your website simply won't appear at the top of their local directory listings.
Our client's businesses and websites are listed in their respective Yellow Pages directory without paying for their service. The listings are simply not at the top.
Having the name, address and phone number of your business consistently listed across the internet is very important for local SEO and how to rank your Google Places/My business page.
But it's not as if people head straight to the Yellow Pages and conduct a search. So are you really missing out on much?
Chances are good that the vast majority of people search for a local business in a search engine.
So if Yellow Pages says your website will disappear or it won't be found on the internet, it's a pile of crap. Millions of websites are found on the internet that don't use Yellow Pages online service.
Now that that's off my chest, let me break down their services and critique them.
"My business advertised in the phone book for years…. When they introduced their online marketing services of providing SEO, I tried them out. I can honestly say that even though they said they were providing SEO for my website, my rankings dropped dramatically and I felt I lost out on business as a result. I was thankful to find Jordan and his SEO company Meaningful Marketing. In the year since we have been working together my website's rankings have improved and I have generated a lot of traffic and clients from their SEO work and would not hesitate to refer them!" Happy Customer – Russ C
Yellow Pages SEO Review
Back in June we received an email from a client who was unhappy with Yellow Pages search engine optimization efforts. He had been with them for almost a year and was not seeing the results he was hoping for.
His rankings were not that great. As a painter, he was in a competitive market. But given the amount of time they had been working on his SEO, surely they would be able to get him into the first page for at least one of his targeted keywords.
During our initial analysis here are the issues we came across:
Lack Of Content
The main page of the website had about 100 words of text. That's not enough for this day and age. Your main page has to have at least 300 words of text.
There was also a lack of pages on the website. The more pages you have with relevant and useful content, the better your chances of search engines ranking your website high.
Why?
Search engines main goal is to provide the searcher with relevant websites. By relevant I mean websites that have lots of content that can help educate people.
The more useful and relevant pages you have on your website, the longer visitors stay on your site. This means they'll spend less time on your competitors.
So your site should aim to educate visitors. You can do that by creating various webpages that answer clients' questions you get asked face to face.
No Optimization
The main page has to be optimized. The Yellow Pages had added in the meta title, keywords and description. But they missed the optimization of search engine optimization.
They failed to add any painting keywords/search terms to the main page of the content. Optimizing the main page title is not enough in 2014 and beyond.
Here's a post on how to properly optimize a webpage.
Backlinks
Another issue we saw was a low amount of backlinks pointing to the website.
Outside of having relevant and optimized content on your website, you need to have links pointing back to your website.
Now with all the search engine algorithms, acquiring high quality backlinks is tough.
The easiest way to get backlinks to your website is to list your business in business directories. Business directory listings tell the search engines you're a real business and have a physical location. You also get a backlink in each listing.
Business listings are also an important piece for how to rank a Google Places page. The more you have, the better your chances of ranking in the Google +/mapped listings.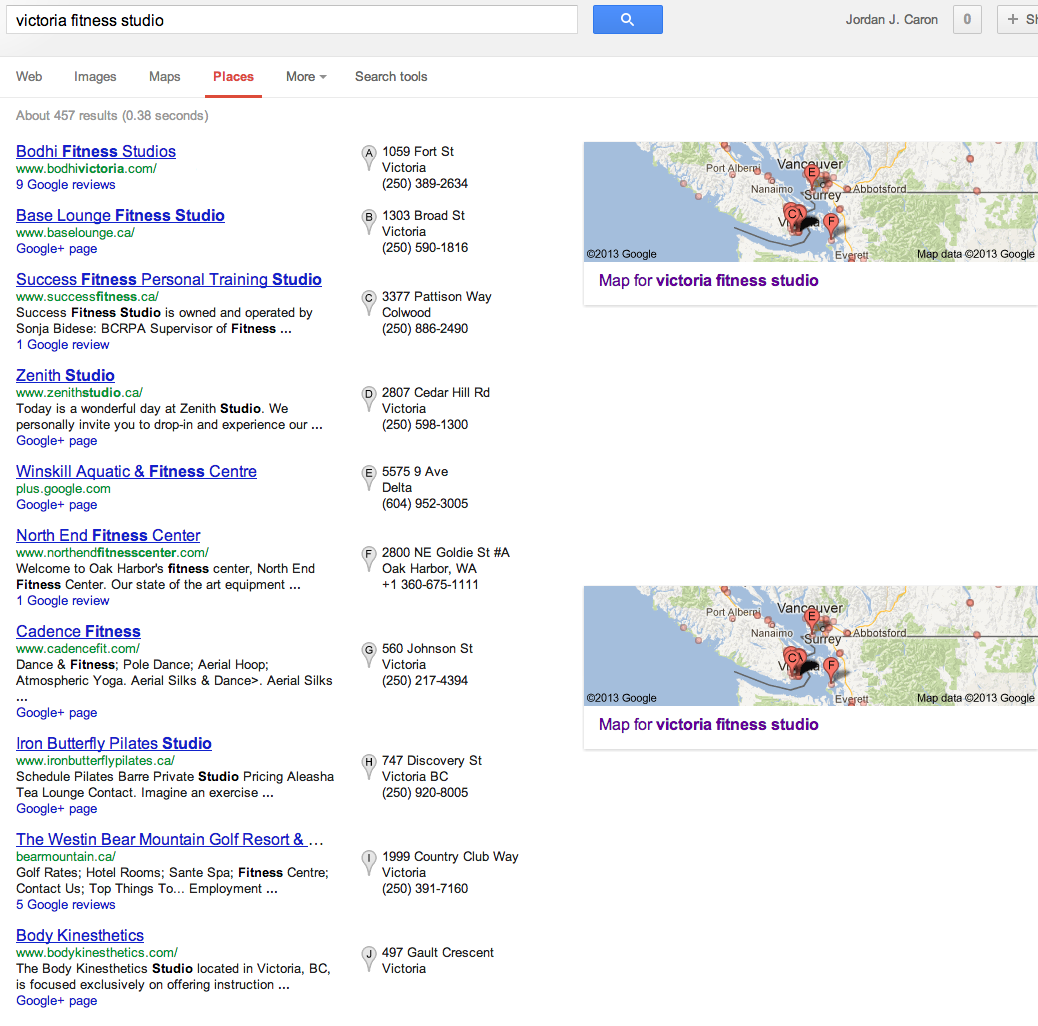 SEO Summary
Overall not enough maintenance work was being done in regards to the SEO of the clients' website. SEO is an ongoing process for many websites. From adding properly optimized content to getting more high quality backlinks, these things take time, and they must be done continuously.
Yellow Pages Online Advertising/Adwords Review
Another one of our clients had been with Yellow Pages for over a year. They were managing this clients' Google Adwords campaigns.
Here are the issues that I found with their Adwords management service:
No Dashboard Access
When I asked the client if we could walk through his Adwords dashboard, he looked at me confused. He said he didn't have one.
They didn't setup the Adwords campaign under the business owners Google account. This means he couldn't see any of the important Adwords data like the keywords being clicked and for how much. He had to rely on the fact that they charged his credit card $1000 every month so he must have been getting clicks.
At the end of the day, you the business owner, need to have dashboard access to Analytics, Webmaster Tools, Google My Business/Places and Adwords.
It's your business and you should be able to see all this data. This allows you to have full access to this very important data to determine what's working and what's not. With our Adwords campaigns, we believe in simply having access to your campaign and not setting one up using our account. Being able to see the data can help us determine if our clients are wasting money on Adwords or not.
Another client is still currently using Yellow Pages for his Adwords (he'd love to stop but the whole contract thing is in the way) and he has no access to any of the Adwords campaign information.
Sparse Reports
In both cases I asked the client if I could see some reports.
Both handed me over a few pages of reports. They were very sparse and provided them with only how much they were paying per month. These reports were essentially invoices.
Here is the issue with having no access and sparse reports sent to you: it's your data!
Both of those clients were/are not able to see what keywords are driving the most amount of clicks, what the ads look like and how much the cost per click on each keyword is. This really hurts them from analyzing the data and making informed changes.
Non-Optimized Landing Pages
The other big issue we have seen with Yellow Pages management on Google Adwords campaigns is that they never optimize the landing page for the keywords they're targeting.
Like SEO, the keywords/search terms you are targeting for your Adwords campaigns need to be on the landing page. This will help increase the likely hood your ad
The landing page was the main page of his website. When we went ahead and started working on improving his rankings and SEO, we had to optimize the main page of his site. This is actually helping YP and the cost per click of his ad campaigns. But we don't care since we have a job to do. And that's to get him better rankings.
High CPC
To get your business listed in the top three spots of the ads section of the search results, Yellow Pages will outbid your competitors and drive up your cost per click in the process.

The cpc will already be high due the non-optimized landing pages. But it'll be even higher thanks to them making sure your business shows up first.
We see websites with a good amount of click throughs even though they don't rank in the top three spots above the organic search results. In doing this, we save our clients money on a monthly basis.
Adwords Summary
I will summarize by saying that Yellow Pages doesn't maximize Adwords spends. The first client I talked about is saving 35% of his Adwords spend all because we decreased his cost per click by properly optimization the landing pages with targeted keywords/search terms.
It's also alarming that they don't allow business owners to see detailed reports in the dashboard of the campaign.
Yellow Pages Directory Listings
I already posted a picture of what the Yellow Pages directory listings look like. If you pay, you get to the top of the directory for your products or services.
And as I mentioned, how often are Yellow Pages directories searched? Not only do they have competition from Yelp and other directories, but the majority of people do their searching in a search engine to get a full spectrum of results. There are some people who do have the Yellow Pages app but my guess is far more people head straight to Google and start their search from there.
They might then land on a Yellow Pages directory from the search results. Yellow Pages directories tend to rank high organically because they have been around for years. Do a search for your products or services to see if the YP directory listing ranks well.
If so, it might be wise to have your business listed in the directory. Obviously, you have to pay them to be ranked high. But the costs of that are very low compared to their monthly SEO and Adwords packages which, did I mention, are contract based.
This would be the only Yellow Pages online service I could see value in. But if it's more than $50/month to get listed, don't bother. Your business can appear ahead of that directory listing by either using Adwords, organic local SEO or by being listed in the Google mapped listings.
Is Yellow Pages Online Worth It?
Based on what our clients were paying, I personally don't think it's worth it for many of the reasons I pointed out. The biggest concern for me is a lack of SEO knowledge from Yellow Pages staff and poor customer service. They seem to be operating on SEO and Adwords principles from years ago.
With SEO and Adwords, search engines are changing algorithms and such weekly. Many internet marketing companies are always reading up and staying educated on the latest trends and changes. This is an area I don't see Yellow Pages online marketers doing based on our audits of websites that they are working on.
If you are looking for online marketing services from a company other than Yellow Pages, contact us and we'd be happy to see what we can do for you.