Why You Might Not Be Showing In The Google Maps
We've been getting a lot of emails from readers all over about why they're not showing up in the Google Maps section of the search results. To be clear the page that shows up in the mapped search results is your Google My Business page. But it also acts as a Google + page. It's all very confusing and I think these pages have been rebranded four different times.
For the record, when I say not showing up in the Google maps porition of the search results, I mean like the example below where there are mapped icons for GMB pages and their locations with organic search results below.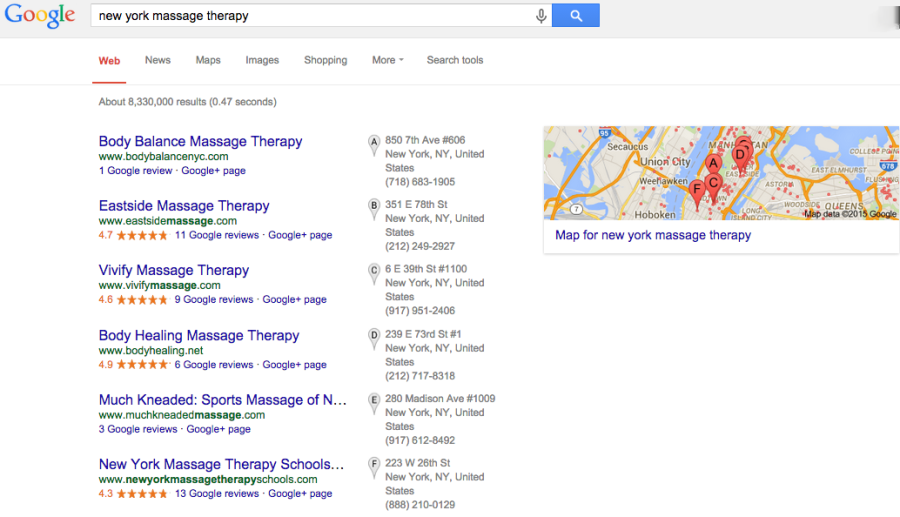 Regardless, how these pages are getting ranked is still kind of confusing. We have talked about how to get your GMB page ranked, five ways to improve your rankings, why your business data on third party sites is so important and how to get reviews.
But you are here because you want to know why you're not showing up in the Google maps. Their is one big reason why. Read on and let me explain what that reason is.
Location & Proximity
One of the reasons why you're not showing up is because you are not physically located in the city you are trying to rank for.
Here's an example.
I just got back from a meeting with a client. During the meeting they asked why they weren't showing in the maps. They typed in a targeted search term and showed me the search results. Surely enough their business wasn't there.
Here's what the results looked like.
The reason why this client isn't ranking, and why your GMB page might not be, is the location and proximity to the search city you are trying to rank for isn't where your business is located in. Our client is located in Victoria BC but in the municipality of Saanich.
The City Of Victoria is an actual municipality which makes up the downtown area as the neighbourhoods below.
As you can see below, our clients business is located well outside of the municipality border of the City of Victoria. It's also outside the Google maps area in the screen shot for when someone searches "auto glass repair Victoria BC".
This is what's frustrating. The greater Victoria area has a population of 359 000 as of 2011. By most standards, this is a small city. Because of this, the vast majority of people living in the 13 municipalities that make up the Greater Victoria area, search for businesses in "Victoria BC" and not their municipality.
How do I know this? I've asked friends and family about this because when it comes to search, I am so analytical. I always want to know what people are searching to find businesses.
That still doesn't stop us from getting our clients to produce content for the 13 municipalities that make up Victoria which we talked about in this local SEO content strategy. Because you just never know when people might actually search micro. As per my research, it's not many but it's still worth it to create that type of content.

Where Is Your Business Located?
If you are located in the outskirts of a city and you want to rank for a big city area, you might not if you're technically not located in the city. I say might not as it's the area Google deems your big city centroid might differ according to what industry you are in.
Test What Google Classifies Your City Limits As
We have another client who is located outside Dallas in a city called Lewisville. They don't show up in Dallas maps/my business results. That's because Google sees them as being outside of Dallas which they are. The screenshot below is for what they classify Dallas as in the red outline. You can see Lewisville in the northwest of this map. It's outside of the red outline for Dallas.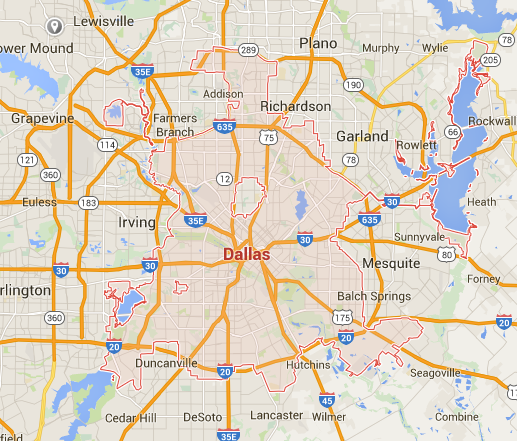 Test your location and the city you are trying to rank in by searching Google maps for that city. Do you fall inside the red outline? If so, theres another reason why are you not ranking.
But if it is because of the above issue, my suggestion would be to make sure you are at least ranking for whatever municipality, neighbourhood or small county/town you are physically located in. You can also create a webpage that targets organic searches for cities you are not located in.