How Long To Rank One Page One?
One of the most common questions we get asked when it comes to our Victoria BC SEO service is "How long will to take for my website to get on the first page?"
This is such a difficult question to answer as every website is different. So is the competitive landscape. Some businesses have 5-10 competitors in their area. While others can have 50. The more competitors you have, the more websites we have to out rank with our SEO service.
On top of this, there are over 200 ranking factors in Google's algorithm.
At Meaningful Marketing we tend to focus on only a few of those factors. On top of having a well optimized landing page targeting your search terms, you must focus on these seven trends in local SEO for 2015 if you want to out rank your competition.
We might have left one out and that is the domain.
Ranking New Domain or Old One
We get a lot of enquires from new businesses who want to hire us. They will inevitably ask us "How long to get my site on the first page?'
If we learn that their the domain is brand new, we tell them a few months longer than if their domain was already well established.
Why is this? Because a new domain takes longer to get on the search engines radar.
We had a potential client approach us last summer with a new domain. When we told them it could take 8 month, they were obviously disappointed.
After explaining why that would be and what they could do to help us, they hired us and it took us about 4 months to get their site on the first page. It should be noted that this client has only 15 competitors. Getting on the first page meant trying to out rank those 15 sites and the YellowPages and Yelp directories. Your competitive landscape and where you are ranking right now might be different.
But we can safely say it could take 4-8 months to rank on the first page locally here in Victoria BC.
This section talked about domain age. We've found older domains are easier to rank than newer domains.
However, there might be a faster way and it boils down to the domain name itself.
Exact Match Keyword Domains
An exact match keyword domain is a domain name that contains a keyword you are trying to target. An example in the local SEO world would be if a painter in Victoria BC was trying to target the keyword "painters Victoria BC", they would try and purchase the domain http://paintersvictoriabc.ca.
Now I say try because years ago, buying exact match keyword domains was all the rage. People actually made a business of buying these domains and selling them. But as they have become less of a ranking factor, these domains can be bought for fairly cheap.
If you find an exact match domain that is a few years old, you might rank faster.
The Experiment
My mother has been so kind as to help me with bookkeeping for Meaningful Marketing. She owned a business for 8 years and completed the Bookkeeping Administration Program at Sprott Shaw here in Victoria. She's semi-retired but still wants to work and loves numbers.
Since I know a lot about SEO and internet marketing, I thought why not create a website for her and do some local SEO on it.
Knowing that buying a new domain might take longer to rank, I searched for expired domains and found an exact match keyword domain. That domain is http://bookkeepingvictoria.ca.
Using the Internet Archive I was able to determine that the domain has been up and running since 2009. Here's a screenshot from December 2nd 2009.
There wasn't much on the domain at the time but it was still alive then. A company called Canwest Accounting owned the domain and eventually got a nice website up on that domain by May 2013.
For whatever reason though they decide along the way not to renew the http://bookkeepingvictoria.ca domain and move their website to a branded domain http://www.canwestaccounting.ca/.
Their loss is hopefully my mothers gain!
I purchased that domain on January 22nd 2015.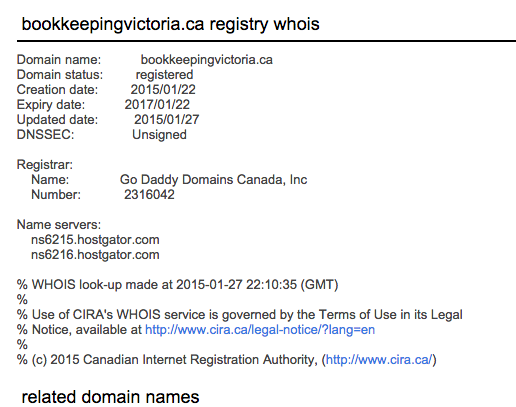 Today is January 27th 2015 and I have the website up and running with a little bit of content. I'll be following the seven trends in local SEO for 2015 post that I created last week.
Content and backlinks will be the biggest areas of focus for getting the website ranked organically. Creating business citations will be the focus on getting the business to rank in the Google maps.
The site has already been indexed and crawled by Google which is a great sign and the reason why buying an older, exact match domain should help her website rank faster for "bookkeeping Victoria BC' search terms.
I ran a search ranking report for the site today and it isn't ranking in the top 50 for any of the search terms we're targeting. But it's ranking in the positions from 51-100 which is another great sign. Especially after buying the domain five days ago and getting optimized content up yesterday.
The goal of this experiment is to get the website ranking on the first page for the search term "bookkeeping Victoria BC" by the end of March. I will update the status at that time.