Google Maps Search Results Change
Last month I made a post that Google had changed the maps results in organic searches. At the time I thought it was going to be a full change but it was only a test and they went back to the old maps results.
It turns out Google rolled out the change across the board last week. They had changed what the maps looked liked for the Tourism & Hospitality industries a few months back. But everything else stayed the same. That was until last week.
So what do you need to know from this change?
Top Three Is Important
The biggest thing from this change is no matter what service you offer or business you run, the  GMB results only list the top three. This means extra importance is put on getting into that top three. Before there were sometimes three, six and seven GMB pages listed in the results with a correlating letter (A-G).
Once again here is what they use to look like.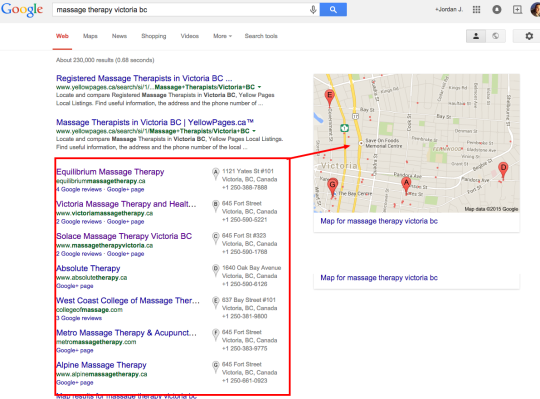 And this is what they look like today.
What's absent is the full address, the option to click on the reviews or the My Business/+ page. You have to click on the business name to see their reviews. When you click on the "More massage therapy" link, you will see more listings along with their pictures, hours, contact details and reviews.
The one nice benefit of this new roll out is that when you do click on "More massage therapy" you are taken to a new page with a bigger map that lists 20 businesses.
If people do click on to see more business, then being in the top three isn't as important. It really all depends on what product or service you provide. In many cases people might be doing their research and want to see location and view websites to compare choices.
One thing hasn't changed. That's the importance of the map centroid for your city. I blogged about this a few weeks back and why it could prevent you from ranking highly in the maps.
Reviews
So far from what I have seen, many businesses ranking highly have lots of reviews. Not just 5 or 10 reviews. But 20+ reviews. So be sure to follow this review strategy and this one I just blogged about.
Click Studies
I was reading this great blog post on click studies regarding the new results. It shows you how many people click on ads, the maps results, organic listings and more maps results.
This new look will be interesting to monitor over the coming months. I'd love to run some click tests of my own. I'll also be analyzing organic traffic in analytics to see if people are still clicking on organic websites.