Give Birth To Your Brands Personality Today!
Brands are supposed to be things, not people right?
Wrong.
You see, all brands were the creative idea of a person. A real human.
So what about your brand?
Does it have a heart? A voice? A personality?
Is it faceless?
Here's where I am going with this.
Lee Clow who is regarded as one of the top Advertising Creative Directors ever explains brand personality for you:
"Brands are very much like people. Do you think that brand is interesting? Would you like to have them over for dinner? Are they always the same or are they sometimes funny and sometimes serious?"
These were his words in the great documentary 'Art & Copy'.
To sum it up, your brand is person. And it should start communicating like one.
If it speaks directly to your target market, even better.
Read on for two great examples of brands doing just that and how you can give birth to your brand.
Before you do that, tweet this link out for me if agree with what Lee and I have said so far.
Would anyone invite your brand over for dinner? – Click to Tweet
Thanks!
Brash To The Bone

Old Spice for years had always been, well, old. I never used any Old Spice products growing up. Neither did my friends. Probably because we weren't their target market.
They also were pretty boring. Same sailing ad after another.
That changed in 2010 with the famous "Your man can smell like me" campaign. In case you've been living in cave, here's one of the commercials.
Even though the ads were geared towards women, I decided to try some Old Spice body wash last year. When I turned the bottle around, I burst out laughing in the shower! Here's why…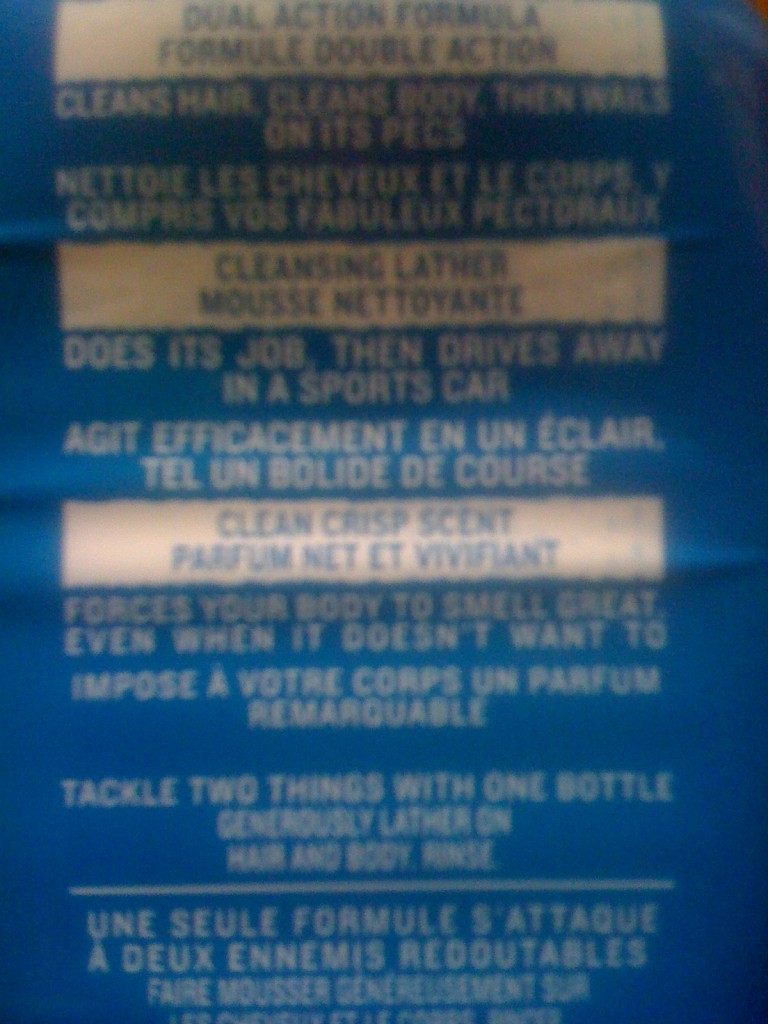 If you can't read the picture taken from my crappy iPhone 3, here's what it says.
"Cleans hair, cleans body then wails on it's pecks. Does it's job and drives away in a sports car."
Talk about speaking directly to their target market in a fun and entertaining way!
What's also interesting is they treated the body wash it self like a human. Doing human things like wailing on pecks and driving a sports car. Awesome stuff Old Spice and a nice touch.
Axe has dominated the hygiene world amongst males ages 15-34 for some time now. They speak to their customers like a person which creates a connection.
Because of this they've had a stranglehold on male hygiene products. That was until Old Spice decided they needed to humanize the brand.
Since then Old Spice has done a bang up job by giving the brand a personality. All because they communicated like a real person.
Another great example of brand personality is Newcastle's Facebook timeline image
I really like the stand they've taken.
One of the things written in the Meaningful Marketing Manifesto is that you should support good causes because you want to and not because you want more followers. They've stated that in it a bold way.
The brand alignment is also bang on with their 'No Bollocks' tagline.
Both examples are bold and in your face. Shocking for most because brands were things and not people before.
They've made me laugh and created an emotional connection. All because they communicated to me like a real human being.
Don't be boring and Forgettable

How often does this happen to you.
You click on a website or read an advertisement and after 10 seconds of reading, you're bored and on to the next thing?
I'm sure it's happened often.
Why does this happen? They don't have a brand voice. They're blurting out their message like a robot speaking monotone. I suppose robots can only speak monotone but you get the point.
Those brands don't understand that people are craving a connection. It's like being able to talk to your favorite actor, actress, athlete or someone you admire. If they're boring face to face, they might be your favorite anymore.
You want to see their human side. It's the same with brands in this socially connected digital world.
Many brands are creating meaningful connections. Simply by having a voice and a personality.
Giving Birth To Your Brand

It's really simple.
Start talking like a human being in every marketing and advertising piece the public sees!
Let your hair down. Stop standing up straight and being all proper. Being polite will not generate an emotional connection with people.
It's like this. The last thing you want to do is fit in. By giving your brand a personality and a voice, you'll be a breath of fresh air and stand out from the competition.
What do you think?

Is there anything holding you back from giving birth to your brand?
If you're already doing so, tell me about it!
I'll be discussing more about brand personality in future posts. If you've liked this post, subscribe to my updates so you can receive them straight to your inbox.